Ice Melt
Our ice melt business is rapidly expanding year after year. Our service, professionalism and relationship with our customers have made us one of the leaders in the industry. Our client list ranges from government and city agencies to lumberyards, snow removal firms and homeowners.
We carry a large selection of all different types of ice and snow melts and we also can deliver full truck loads of bulk rock salt direct to your location.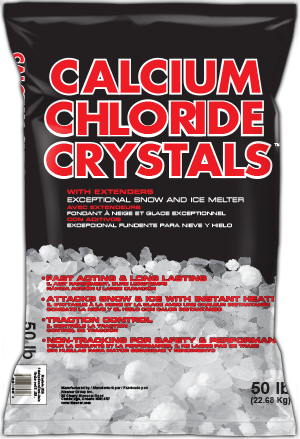 Calcium Chloride Crystals™
HOT! Calcium chloride based ice melt formulation
Fast acting and longer lasting
Provides increased traction control
Non-tracking
Easily dispersed and extended shelf life
Variety of packaging types and sizes available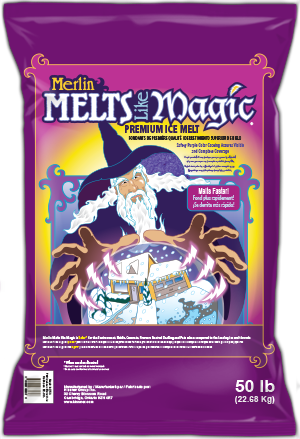 Merlin Melts Like Magic®
Ice melt formulation for residential and commercial applications
Brilliant purple color coating for accurate and visible application
Easier on the environment
Variety of packaging types and sizes available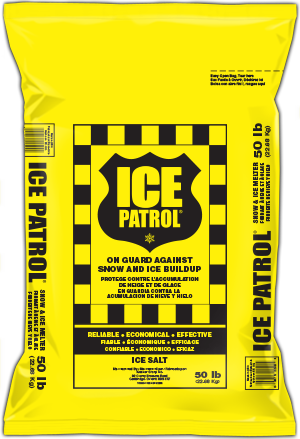 Ice Patrol® – Rock Salt
Economical and effective ice melt
Optimally sized granules for maximum performance
Ice melt lows freely through commercial spreaders
Variety of packaging types and sizes available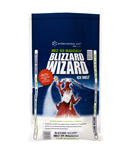 Blizzard Wizard® Ice Melt is one of the choice products snow-fighting professionals use for melting ice and snow. It features the low-temperature performance of costly ice melt products and creates an "ice shield" that provides long-lasting, residual effects for additional melting power. Blizzard Wizard® Ice Melt is a proprietary blended ice-melt formulation consisting of sodium chloride encapsulated with liquid magnesium chloride and an agriculturally derived corrosion inhibitor. Blizzard Wizard® works at extremely low temperatures and produces long-lasting effects. This proprietary formula delivers outstanding performance while remaining friendly to pets and the environment.
Blizzard Wizard®
Aggressive melting performance
Gentle on vegetation
Long-lasting residual effects
Slow dilution
Treated surfaces retain an "ice shield" that can prevent ice and snow from bonding to surfaces
Christmas Trees
Every holiday our garden center is transformed to a winter wonderland. We carry a full line of Christmas Trees, Wreaths, Garland and more. If you are currently using an artificial tree, we hope you will consider the benefits of a natural tree. The Natural Christmas Tree Association has provided some benefits of natural trees vs. artificial trees.
(1) Real Christmas trees are an all-American product, grown in all 50 states, including Alaska and Hawaii. Most artificial trees are manufactured in Korea, Taiwan, or Hong Kong.
(2) Real trees are a renewable, recyclable resource. Artificial trees contain non-biodegradable plastics and metals.
(3) For every real Christmas tree harvested, 2 to 3 seedlings are planted in its place.
(4) There are about 1 million acres in production for growing Christmas trees. Each acre provides the daily oxygen requirements of 18 people.
(5) There are about 15,000 Christmas tree growers in the U.S., and over 100,000 people employed full or part time in the industry.
(6) There are approximately 5,000 choose and cut farms in the U.S.
(7) It can take as many as 15 years to grow a tree of average retail sale height (6 feet), but the average growing time in 7 years.
(8) The top selling Christmas trees are: Balsam Fir, Douglas Fir, Fraser Fir, Noble Fir, Scotch Pine, Virginia Pine and White Pine.